Super excited to start our 10th year
9/25/19 - 04:12 PM
We are super excited to celebrate 10 years of being a 100% Free Basketball program for kids.
We have been running our free open workouts for kids ages 12-15 since Sept and we are now ready to start putting our Fall/Winter teams together.
We will be starting off with a group of 12/13 year olds..
Anyone interested please read the flier below. Come on down on Tuesday and Thursday nights before tryouts to get a Great workout in to prepare you for the upcoming season. See below for info
We are located at Taylor White Community Center, 80 Clymer St Williamsburg Brooklyn. Tuesday and Thursday 6-8 pm.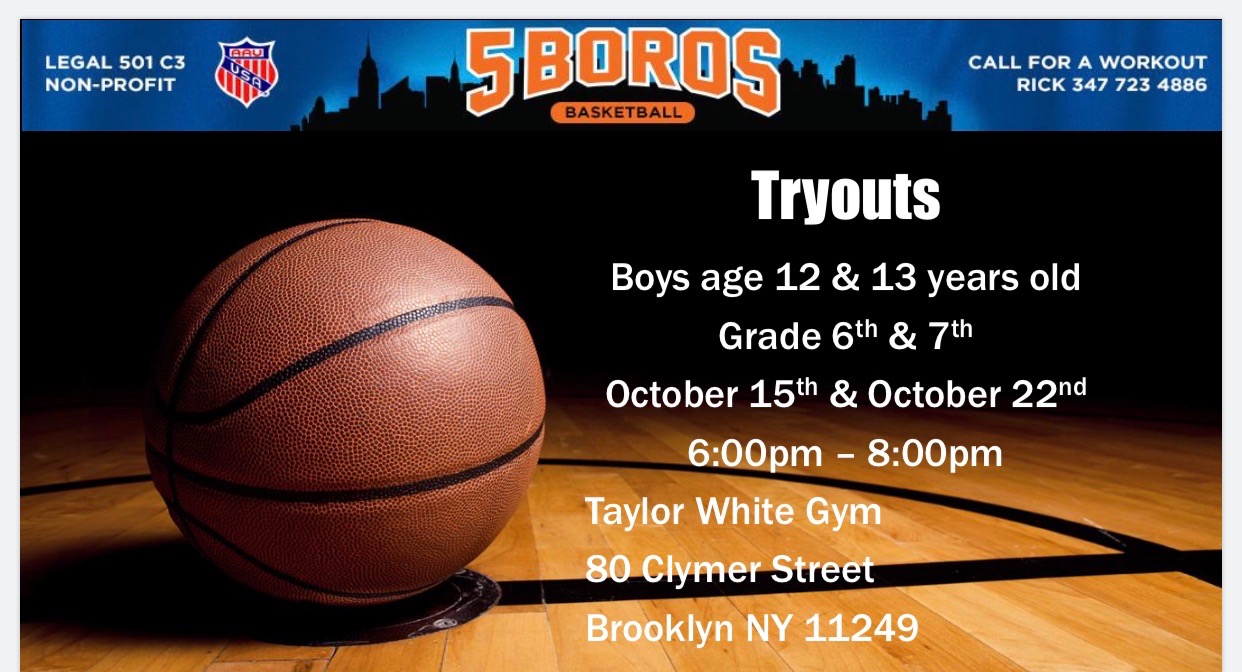 As always 5 Boros Basketball is a free program to anyone who wants to come and participate. However we still have many finaicial responsibilties.
We have only been able to survive from donations from sponsors.
After 10 years of helping well over 1000 kids stay off the streets, out of trouble while keeping their grades abover passing it does not get any easier to raise funds.
We do all we do while taking kids to top local and away tournaments to compete on high level..
All this helps them get notticed by these top schools and hopefully as we have done for 10 years assists them in obtaining Scholarships to these schools.
We are Proud to say we have had hundreds of our players attend the High school of their choice and top D1 Colleges on Scholarships.
None of the staff gets paid any money for what they do and all donations go directly to the expenses of the program.
If you are considering being a sponsor or making a donation or know someoone or some company who maybe interested please either Click on the left "Sponsorship Program "Tab of shoot me a email or text.
Help us help the kids.
Rick Atson ( Director )
347-723-4886
5borosbasketball@gmail.com
Willam Mayers (Coach)
347-644-4206
5borosbasketball@gmail.com
---